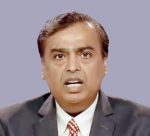 Description
Indian businessman Mukesh Dhirubhai Ambani was born on April 19, 1957, and is a millionaire. Reliance Industries, the most valuable corporation in India based on market value, is now led by him as chairman and managing director. He is the wealthiest person in Asia and the 13th richest person in the world as of August 2023, with an estimated net worth of $91.2 billion. He has gained recognition and infamy for allegations of market manipulation, political corruption, cronyism, and exploitation. He is sometimes referred to as a plutocrat.He was included in Time magazine's "Titans" list of the 100 most important people in 2019.
Early life
Mukesh Dhirubhai Ambani was born on April 19, 1957, to Gujarati Hindu parents Dhirubhai Ambani and Kokilaben Ambani in the British Crown territory of Aden (modern-day Yemen). He has two sisters, Nina Bhadrashyam Kothari and Dipti Dattaraj Salgaonkar, as well as a younger brother named Anil Ambani.
Because of his father's 1958 decision to return to India and launch a trade company specialising in textiles and spices, Ambani only spent a limited amount of time in Yemen. The latter's name had been "Vimal" at first, but was subsequently altered to "Only Vimal." In Bhuleshwar, Mumbai, his family resided in a humble two-bedroom flat till the 1970s. After relocating to India, the family's financial situation significantly improved, but Ambani continued to live in a communal environment, travel on public transit, and never get a salary. Ambani and his brother resided with their families on various floors in a 14-floor apartment building in Colaba that Dhirubhai subsequently bought.
Education
Along with his brother, Ambani attended the Hill Grange High School on Peddar Road, Mumbai, as did Anand Jain, who would go on to become a close friend of his. He attended St. Xavier's College in Mumbai after finishing his secondary education. The Institute of Chemical Technology then awarded him a BE in chemical engineering.
Later, Ambani applied to Stanford University for an MBA programme but dropped out in 1980 to work with his father to establish Reliance, which at the time was still a young but rapidly expanding company. His father sent his son back to India from Stanford to take charge of a yarn production project at his firm because he believed that real-life skills were developed via experiences rather than by sitting in a classroom.
William F. Sharpe and Man Mohan Sharma were Ambani's lecturers, and he has been reported as remarking that they were "the kind of professors who made you think out of the box."
Mukesh Ambani Career
He began assisting his father Dhirubhai Ambani in managing the Reliance Industries Limited, the family business, in 1981. By this point, it had already grown to include petrochemicals and refining as well. The company offered goods and services to the retail and telecoms sectors as well. The biggest retailer in India is Reliance Retail Ltd., another affiliate. Since its public introduction on September 5, 2016, Reliance's Jio has climbed to a top-five position in the nation's telecommunications services[additional justification required].
Ambani, who was listed as the 36th richest person in the world as of 2016 on Forbes magazine's list, had held the distinction of being India's richest person for the previous ten years. On Forbes' list of the world's most powerful people, he is the lone businessman from India. According to Forbes, Mukesh Ambani was the sixth richest person in the world as of October 2020. In July 2018, he surpassed Jack Ma, executive chairman of the Alibaba Group, to claim the title of Asia's richest person with a net worth of $44.3 billion. Additionally, he is the richest individual outside of North America and Europe. According to China's Hurun Research Institute, Ambani was India's fifth-ranking donor as of 2015.
He founded the Indian Super competition, an Indian football competition, through Reliance, and he also owns the Mumbai Indians of the Indian Premier League. He was one of the wealthiest sports owners in the world, according to Forbes, in 2012. He dwells in the Antilia, which is among the most expensive private homes in the world with a value of $1 billion.
1980s–90s
Under Indira Gandhi, the Indian government allowed the private sector to manufacture PFY (polyester filament yarn) in 1980. Dhirubhai Ambani requested a permit to establish a PFY manufacturing facility. Because the government at the time was prohibiting large-scale production and making it hard to import yarn for the textiles, getting the licence was a protracted procedure that needed strong connections inside the bureaucratic system. Despite fierce competition from the Tatas, Birlas, and 43 other families, Dhirubhai, also known as Licence Raj, was given the licence. In 1981, Dhirubhai yanked his eldest son—who was pursuing an MBA at Stanford—out of school to assist him in building the PFY facility.
Ambani didn't finish his undergraduate degree since he was in charge of Reliance's vertical integration, which involved moving from textiles to polyester fibres and then to the petrochemicals used to make the yarns. He began daily reporting to Rasikbhai Meswani, the company's executive director at the time. The firm was created from the ground up with the idea that everyone should contribute to it and it shouldn't rely too much on a small group of people. Even though he had little experience, Dhirubhai treated him like a business partner and gave him the flexibility to participate. After Rasikbhai's passing in 1985 and Dhirubhai's stroke in 1986, when all responsibility fell to Ambani and his brother, this idea came into play.
Reliance Infocomm Limited, founded by Mukesh Ambani and currently known as Reliance Communications Limited, specialised in projects involving information and communications technologies. When the business was substantially investing in oil refineries and petrochemicals, Ambani, then 24 years old, was given responsibility for the Patalganga petrochemical plant's development.
From 2000s To Present
After suffering a second stroke, Mukesh's father passed away on July 6, 2002. Because Dhirubhai had not written a will for the division of the empire in 2004, this increased tensions between the brothers. In order to put an end to the conflict, their mother separated the business in half, giving Ambani control over Indian Petrochemicals Corporation Limited and Reliance Industries Limited. The Bombay High Court later granted its approval in December 2005.Mbani oversaw the construction of the biggest grassroots petroleum refinery in the world at Jamnagar, India. The refinery, which was integrated with petrochemicals, power generation, a port, and related infrastructure, had a production capacity of 660,000 barrels per day (33 million tonnes per year) in 2010. Ambani mentioned the potential for a "collaborative venture" with Bharti Airtel in putting up the digital infrastructure for the 4G network in India in December 2013 at the Progressive Punjab Summit in Mohali. In his speech at the 40th Annual General Meeting of Reliance Industries on June 18, 2014, Mukesh Ambani pledged to invest Rs 1.8 trillion (short scale) across companies over the following three years and to introduce 4G internet services in 2015.
For suspected discrepancies in the price of natural gas from the KG basin, a First Information Report (FIR) claiming criminal offences was filed against Mukesh Ambani in February 2014. Arvind Kejriwal, who briefly served as Delhi's chief minister and authorised the filing of the FIR, has charged several political parties of being mute over the problem of petrol prices. Both Rahul Gandhi and Narendra Modi have been urged by Kejriwal to make their positions on petrol prices known. According to Kejriwal, the Centre let petrol prices to increase to $8 per unit even though Mukesh Ambani's business only spends $1 per unit to generate it, resulting in an annual loss to the nation of Rs. 540 billion.
Ambani made a $25 billion plan public in August 2022 with the goal of introducing 5G mobile internet services within two months. By the end of 2023, high-speed internet will be introduced throughout the nation's largest cities, including Mumbai and New Delhi.