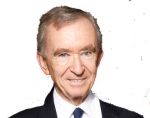 Description
Bernard Jean Étienne Arnault, a French entrepreneur, businessman, and art collector, was born on March 5, 1949. The largest luxury goods firm in the world, LVMH Mot Hennessy Louis Vuitton, is run by him as its founder, chairman, and CEO. Arnault is one of the richest persons in the world, with his family's estimated net worth of US$230 billion as of July 2023, according to Forbes.
Life
On March 5, 1949, Bernard Jean Étienne Arnault was born in Roubaix. His mother, musician Marie-Josèphe Savinel, was a fan of Dior. She was Étienne Savinel's daughter. His father, civil engineer Ferret-Savinel owner and maker Jean Léon Arnault, graduated from École Centrale Paris. Arnault was taught the classical piano as a kid and went to prestigious Catholic schools. He was raised in a "strict Catholic-Auvergne" manner by his devoutly Catholic grandmother.
Career
Arnault attended both the Lycée Faidherbe in Lille and the Lycée Maxence Van Der Meersch in Roubaix for his education. He completed his studies at France's top engineering school, the École Polytechnique, in 1971, and then started working for his father's business. Three years later, Ferret-Savinel liquidated its industrial construction branch and changed its name to Ferinel after persuading his father to focus the business' attention on real estate. The business rebranded the real estate division to the George V Group after acquiring a textile firm and moving its headquarters. Later, Compagnie Générale des Eaux (CGE), which eventually became Nexity, purchased the real estate holdings.
1971–1987: Professional
Ferret-Savinel was where Arnault started his career in 1971, and he served as its president from 1978 to 1984. When the French government was about to select someone to lead the Boussac Saint-Frères empire, a textile and retail conglomerate that owned Christian Dior, in 1984, Arnault, a young real estate developer, heard about it.
1987–1989: Co-founding  LVMH
In order to create LVMH in 1987, he collaborated with Henry Racamier, president of Louis Vuitton, and Alain Chevalier, CEO of Mot Hennessy.
In order to create a holding company with Guinness that controlled 24% of LVMH's shares, Arnault contributed $1.6 billion in July 1988. Arnault invested $600 million to acquire 13.5% more of LVMH, making him the company's largest stakeholder, in reaction to rumours that the Louis Vuitton group was purchasing LVMH shares to create a "blocking minority". The idea behind the creation of LVMH was that the conglomerate would be too big for one hostile raider. The hypothesis did not, however, account for internal takeover efforts. When Henry Racamier, the president of Louis Vuitton, and Arnault had different strategic visions, the fault grew too big to ignore.