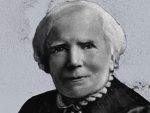 Description
Elizabeth Blackwell, a British and American physician, was renowned for being the first woman to receive a medical degree in the United States and the first woman to be listed on the General Medical Council of the United Kingdom's Medical Register. She lived from 3 February 1821 to 31 May 1910. Blackwell was a pioneer in encouraging education for women in medicine and was a significant social reformer in both the United States and the United Kingdom. The Elizabeth Blackwell Medal, given each year to a woman who has significantly contributed to the advancement of women in medicine, honours her efforts and continues to do so.
Blackwell initially had no desire to pursue a profession in medicine. In order to provide for her family, she decided to become a teacher. In the 1800s, women could work in this field, but she quickly realised that it wasn't for her. Blackwell's interest in medicine was ignited after a friend who had been unwell said that she may not have suffered as much if she had been treated by a female doctor. Blackwell started submitting applications to medical schools and experienced the discrimination against her sex that would last her whole career right away. With the exception of Geneva Medical College in New York, where the male students joked about voting in favour of Blackwell's entrance, she was turned down by every medical school to which she applied.In 1847, as a result,
Life
Elizabeth was born on February 3, 1821, in Bristol, England, to Samuel Blackwell and Hannah (Lane) Blackwell. Samuel was a sugar refiner. She had two elder sisters named Anna and Marian, as well as six younger brothers and sisters: Samuel (married Antoinette Brown), Henry (married Lucy Stone), Emily (the second woman in the United States to get a medical degree), Sarah Ellen (a writer), John, and George. She also shared a home with her four maiden aunts, Barbara, Ann, Lucy, and Mary.
Because Samuel Blackwell's most successful sugar mill was destroyed in a fire, the Blackwell family left Bristol, England, for New York in 1832. Elizabeth's father started participating in abolitionist activities in New York. Therefore, topics like women's rights, slavery, and child labour frequently came up during their dinner conversations. These left-leaning debates represented Hannah and Samuel's views on parenting. For instance, Barbara Blackwell kept track of the kids' transgressions in a black book rather than punishing them physically. The kids would be sent to the attic for supper if the misdemeanours continued. Similar to Samuel Blackwell, he had a liberal outlook on his kids' schooling.