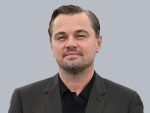 Description
Actor and producer Leonardo Wilhelm DiCaprio hails from the United States. He is the winner of multiple honors, including an Academy Award, a British Academy Film Award, and three Golden Globe Awards. He is well known for his work in biographical and historical films. His films have earned more than $7.2 billion globally as of 2019, and he has appeared eight times in lists of the highest-paid actors in the world.
DiCaprio, a Los Angeles native, made his acting debut in television commercials in the late 1980s. He had recurring parts in several television programs in the early 1990s, including the sitcom Parenthood, and he played novelist Tobias Wolff in This Boy's Life (1993), which was his first significant film role. For his portrayal of a child with developmental disabilities in What's Eating Gilbert Grape (1993), he got favorable reviews as well as his first Academy Award and Golden Globe Award nominations. Romeo + Juliet (1996) and Titanic (1997) are two star-crossed love stories that helped DiCaprio become a global celebrity. He slowed down for a few years after the latter became the highest-grossing movie at the time.
Life
On November 11, 1974, Leonardo Wilhelm DiCaprio was born in Los Angeles, California. He is the only child of George DiCaprio, an underground comic book artist and distributor, and Irmelin Indenbirken, a legal secretary. The couple met in college and relocated to Los Angeles after graduation. His father is of Italian and German ancestry, and his mother is German. His maternal grandmother Helene Indenbirken was a Russian immigrant who lived in Germany, and his maternal grandfather Wilhelm Indenbirken was a German. DiCaprio was brought up as a Catholic. There is no proof that Leonardo DiCaprio has any relatives that are of Ukrainian birth or background, despite sources making the bogus claim that his maternal grandmother was born in Odesa, Ukraine.
Leonardo was given that name by DiCaprio's parents because his expectant mother felt him kick for the first time while admiring a work by Leonardo da Vinci in Florence, Italy's Uffizi gallery. When DiCaprio was a year old, his parents got divorced because his father moved out since he had fallen in love with someone else. His parents relocated into identical cottages with a communal garden in Echo Park, Los Angeles, to raise him collectively. Adam Farrar, the son of DiCaprio's father's girlfriend, and whom DiCaprio became particularly close to, resided with them. Later, DiCaprio and his mother relocated to other areas, including Los Feliz. His parents are "bohemian in every sense of the word" and "the people I trust the most," according to him.