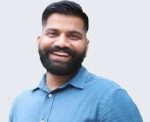 Description
Technical Guruji is the stage name of Indian YouTuber Gaurav Chaudhary, who resides in the UAE. Chaudhary is well known for his Hindi-language technology-related YouTube videos. He was included as one of Forbes India's 30 under 30 in 2020 and stated to have 15 million YouTube subscribers.
Career
In October 2015, Gaurav Chaudhary began his "Technical Guruji" YouTube channel, where he mostly posted advice and product reviews. He received assistance in creating the clip from his senior at the school who also runs the YouTube channel Sharmaji Technical. In order to provide video on his personal life, Gaurav Chaudhary established a second channel called "Gaurav Chaudhary" in 2017.
Technical Guruji was listed as the 9th most subscribed technical YouTube channel in September 2018. Gaurav Chaudhary was the first technological YouTuber to amass more over 10 million subscribers, according to a report from November 2018.
2018 and 2019's episodes of YouTube Rewind featured Gaurav Chaudhary.
Connect with him on Facebook
facebook/TechnicalGuruji