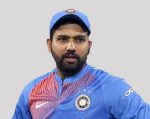 Description
An international cricketer from India named Rohit Gurunath Sharma serves as the team's captain right now in all forms of the game. Rohit Sharma is renowned for his timing, grace, six-hitting prowess, and leadership qualities. He is regarded as one of the greatest opening batters of all time and one of the finest batsmen of his generation. In right-handed batsman roles, he competes for the Mumbai Indians in the IPL, the India national cricket team in international competition, and Mumbai in domestic competition. Also serving as the team's captain, Rohit has led the Mumbai Indians to five championships. Rohit Sharma played for India in the 2007 and 2013 ICC Champions Trophy finals, winning both competitions as a part of the squad.
Career
In March 2005 in Gwalior,Rohit Sharma made his List A debut for West Zone against Central Zone in the Deodhar Trophy. He made 31 while batting at position eight, leaving West Zone with a 3-wicket victory with 24 balls to spare. In the same game, Cheteshwar Pujara and Ravindra Jadeja made their debuts. Sharma gained notoriety for his undefeated 142-ball century against North Zone at the Maharanna Bhupal College Ground in Udaipur during the same competition. He travelled to Abu Dhabi and Australia with the India A team, and after that, he was added to India's list of 30 potential players for the next ICC Champions Trophy competition, however he did not make the final roster.
In 2021, Rohit Sharma played well for India against England at home. He hit a century, one that The Guardian said "deserves to be considered one of the greatest this century," and was crucial to his team's recovery after losing the first Test at Chennai. He scored 161 runs in an innings that featured 18 fours and two sixes, adding 167 runs with Ajinkya Rahane for the fourth wicket. India ultimately prevailed in the Test by 317 runs. In the low-scoring third Test in Ahmedabad, he led his team in scoring with scores of 66 and 25, respectively, helping them to victory.The most runs for India in the series were scored by Sharma, who finished with 345 runs at an average of 58.