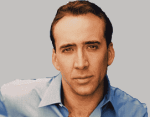 Description
Nicolas Kim Coppola, better known by his stage name Nicolas Cage, was born in the United States on January 7, 1964. He is a Coppola family member and has won numerous honors, including a Golden Globe, a Screen Actors Guild Award, and an Academy Award.
In addition to receiving plaudits for his portrayal of an ex-convict in the black comedy Raising Arizona (1987), Cage first came to public recognition for his love parts in Valley Girl (1983), Peggy Sue Got Married (1986), and Moonstruck (1987). He earned the Academy Award for Best Actor in 1995 for his role as an alcoholic in the film Leaving Las Vegas. In Adaptation (2002), he was nominated for an additional Academy Award for his portrayal of twins Charlie and Donald Kaufman.
Cage is the owner of the production business Saturn Films, where he has worked on projects like Sonny (2002), The Life of David Gale (2003), and Shadow of the Vampire. In 2007, he was listed as one of the top 100 film stars of all time by Empire magazine, and in 2008, he was listed as the 37th most powerful person in Hollywood by Premiere.
Career
Cage was born in Long Beach, California, to dancer and choreographer Joy Vogelsang and literature professor August Coppola. He was brought up in a Catholic household. His mother had German and Polish background, while his father was of Italian descent. His paternal great-grandparents were immigrants from Bernalda, Basilicata, and his paternal grandparents were composer Carmine Coppola and actress Italia Pennino.Through his father, he is related to actors Robert and Jason Schwartzman, Gian-Carlo Coppola, producers Roman Coppola and Sofia Coppola, and directors Francis Ford Coppola and Talia Shire.
The 1981 television pilot The Best of Times, which ABC decided not to pick up, was Cage's acting debut. In 1982, he made his acting debut in the coming-of-age movie Fast Times at Ridgemont High, playing an unnamed character's coworker after first trying out for Judge Reinhold's part. His time working on the movie was ruined by the cast members' constant reference to his uncle's movies, which gave him the idea to change his name. In the romantic comedy Valley Girl (1983), opposite Deborah Foreman, Cage had his first leading role as a punk who falls in love with the title character. The story was partially based on Romeo and Juliet.