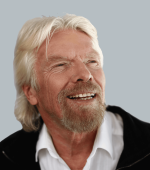 Description
Sir Richard Charles Nicholas Branson, a British business tycoon and commercial astronaut, was born on July 18, 1950. He established the Virgin Group in the 1970s, and it now owns more than 400 businesses in a variety of industries.
At a young age, Branson declared his intention to launch his own business. At the age of 16, he launched his first company, Student magazine. He established a mail-order record business in 1970. In 1972, he founded the Virgin Records chain of record stores, which later became known as Virgin Megastores. As Branson launched the Virgin Atlantic airline and expanded the Virgin Records music label in the 1980s, his Virgin brand experienced a rapid expansion. During the privatization of British Rail in 1997, Branson established the Virgin Rail Group to compete for passenger rail franchises.
From 1997 until 2019, the InterCity West Coast franchise, the InterCity CrossCountry franchise, and the InterCity East Coast franchise were all run under the Virgin Trains name. He established the aerospace company Virgin Galactic in 2004, which is known for its suborbital SpaceShipTwo spacecraft created for space tourism and is stationed at the Mojave Air and Space Port in California.
Branson received a knighthood in March 2000 at Buckingham Palace for "services to entrepreneurship". He has gained notoriety around the world for his work in retail, music, and transportation (with interests in land, air, sea, and space travel), as well as his love of adventure and humanitarian activities. He was included in the Time 100 list of the most influential people in the world in 2007. Forbes put Branson's net worth at $3 billion in June 2023.
In a suborbital test flight for his spaceflight business Virgin Galactic on July 11, 2021, Branson flew as a passenger on Virgin Galactic Unity 22 near the brink of space. The mission took almost an hour to complete, reaching a peak height of 53.5 miles (86.1) kilometers. Branson was the third oldest space traveler at the age of 70.
Early life
The son of barrister Edward James Branson (1918-2011) and his wife Evette Huntley Branson (née Flindt; 1924-2021), a former ballet dancer and air hostess, Richard Charles Nicholas Branson was born on July 18, 1950, in Blackheath, London. Vanessa and Lindy, his younger sisters, are his siblings. His paternal grandfather, Sir George Arthur Harwin Branson, served as a Privy Councillor and judge on the High Court of Justice.
John Edward Branson, Branson's great-great-great-grandfather, emigrated to India from England in 1793; Harry Wilkins Branson afterwards joined his son in Madras. Four generations of Branson's family resided in India beginning in 1793, primarily in Cuddalore, Tamil Nadu. Branson's 3.9% South Asian (Indian) DNA was revealed on the television program Finding Your Roots, most likely as a result of intermarriage. Later, he revealed that Ariya, an Indian, was one of his great-great-great-grandmothers.
Branson, who has dyslexia and had poor academic achievement, was informed by his headmaster, Robert Drayson, on his last day of school that he would either go to jail or become a rich. Branson has freely acknowledged having ADHD. From an early age, Branson's parents encouraged his endeavors. His mother was an entrepreneur, and she built and sold wooden tissue boxes and trash cans as one of her most lucrative businesses. He initially lived in squats in London from 1967 to 1968.