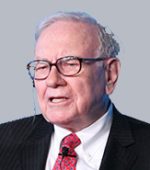 Description
Warren Edward Buffett is an American entrepreneur, investor, and philanthropist who was born on August 30, 1930. He presently serves as Berkshire Hathaway's chairman and CEO. Buffett is one of the most well-known fundamental investors in the world as a result of his tremendous financial performance. He had a net worth of $117 billion as of October 2023, making him the seventh-richest person in the world.
Buffett has been as chairman and the company's largest shareholder since 1970. Berkshire Hathaway is one of the top holding businesses in the United States and one of the top multinational giants globally. Due to his enormous wealth amassed as a consequence of his business and investing success, he has been referred to as the "Oracle" or "Sage" of Omaha by international media. He is renowned for his dedication to value investment concepts and his frugality despite his enormous wealth.
A well-known philanthropist, Buffett promised to donate 99 percent of his wealth to charitable organizations, principally through the Bill & Melinda Gates Foundation. Together with Bill Gates, he established The Giving Pledge in 2010, whereby millionaires promise to donate at least half of their wealth.
Childhood and Education
The only son of Leila and Congressman Howard Buffett, Warren Edward Buffett was born on August 30, 1930, in Omaha, Nebraska, as the second of his parents' three children. Rose Hill Elementary School was where he started his studies. After relocating to Washington, D.C., where his father was elected to the first of four terms in the US Congress, Warren completed elementary school, went to Alice Deal Junior High School, and graduated from what was then Woodrow Wilson High School in 1947 with the inscription "likes math; a future stockbroker" in his senior yearbook picture.
Buffett wanted to bypass college and enter the workforce right away after graduating from high school and seeing success with his side business enterprises and investment endeavors, but his father disagreed.
Buffett showed early aptitude for business and investing. One Thousand Ways to Make $1000, a book he checked out of the Omaha Public Library when he was seven, served as his inspiration. Early in life, Buffett engaged in a lot of entrepreneurial endeavors. Buffett started off by door-to-door selling chewing gum, Coca-Cola, and weekly magazines. He was employed by the grocery owned by his grandfather. He earned money while still in high school by, among other things, delivering newspapers, selling golf balls and stamps, and polishing vehicles. Buffett claimed a $35 deduction for the use of his bicycle and watch on his first income tax return in 1944.
As a sophomore in high school, Buffett and a friend spent $25 on an old pinball machine, which they installed in the neighborhood barbershop. Within a short period of time, they had several machines at three various barbershops throughout Omaha. They later made a tidy $1200 selling the company to a war veteran.
As a young student, Buffett developed an interest in the stock market and investing while hanging out in the customers' lounge of a local stock brokerage close to his father's own brokerage firm. When Warren was a little boy of ten, his father showed an interest in his education and once took him to see the New York Stock Exchange. At age 11, he purchased three shares of Cities Service Preferred for himself and three additional shares for his sister Doris Buffett, who would later start her own philanthropic organization. Warren delivered Washington Post newspapers at the age of 15 and earned more than $175 per month. He purchased a 40-acre farm operated by a tenant farmer while still in high school and made an investment in a company owned by his father.